MYTON LAW ADVISES MIMIR MARINE ON DIVER DECOMPRESSION CHAMBER CONTRACT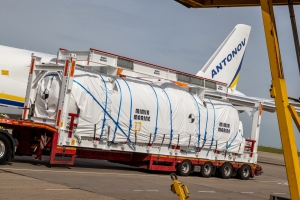 Humber Marine & Renewables member Yorkshire's specialist shipping, rail and transport law firm Myton Law has advised Hull-based Mimir Marine on a contract for the urgent supply of a port-side hyperbaric reception facility to Baku, Azerbaijan.
The 80-ton, 300 metre-depth rated life support chamber complex provides a shore based safe-haven for the controlled decompression of deep-sea divers.  Developed by Mimir Marine in Hull, the unit is suitable for multiday decompression of up to 24 divers.
The unit was dispatched by Mimir Marine for urgent delivery after damage to an existing facility at Baku, the capital of Azerbaijan which is located on the Caspian Sea.  It was air lifted via East Midlands Airport on board an Antonov 124 aeroplane designed in Ukraine for heavy cargo.  The equipment arrived in Baku within 12 hours of leaving the UK.
"Myton Law was delighted to advise Mimir Marine against tight deadlines on such a complex, multi-faceted contract in negotiation with a major oil and gas company for this urgently-required, high value kit," said Myton Law's John Habergham.
"Mimir Marine's rapid response to a call for a replacement diver facility after damage had rendered an existing unit unserviceable ensured seamless safe diving could continue," said Gerard Laden, director of Mimir Marine.
Mimir Marine, based on Neptune Street in Hull, is a leading global provider of hyperbaric reception facilities, diving and high-altitude pressure vessels for human occupancy and associated equipment.  Mimir Marine own globally deployable Hyperbaric Reception Facilities (HRF) systems.  HRFs are positioned so that, if required, a hyperbaric lifeboat can be taken to an appropriate safe harbour and divers transferred under pressure into the HRF chamber for controlled decompression if a diving vessel has to be abandoned, for example following fire or a collision.  Whilst designed by Mimir for air transport for overseas operations, HRF pre-positioning by ship is the norm.
Hull-based Myton Law has been listed for its maritime expertise in the 200 'Best Law Firms 2022' published by The Times, it is one of only four practices noted for maritime work in England & Wales.  Based on Hull's historic High Street overlooking the River Hull, the firm advises shipping, rail and logistics businesses both in the Yorkshire and Humber region, nationally and internationally.
ENDS